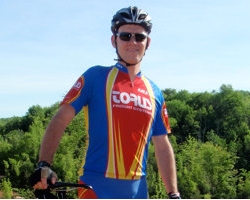 Dan likes bikes; he always has. He likes to race them and has been doing so competitvely across Ontario for over 15 years. Dan likes to help others learn how to race, so he volunteers as a coach for Midweek Cycling Club's "Learn to Race" program.
Dan loves to fix bikes. As a kid, he would get his dad to drive him around the town on garbage nights, so he could rescue bikes and bike parts from the trash. He would fix up old and broken bikes to sell, so he could buy more parts... to fix more bikes.
When Dan was deemed to be of "grown-up" age, people said he had to go to school, so he could get a "real job", so he went to Humber College to be an engineer. After graduating, he worked as an engineer, and then he landed a job programming injection molding machines. After a few years, Dan realized that he enjoyed being a grease monkey a great deal more than being a code monkey, so he did something about it.
Dan graduated at the top of his class from Winterborne Bicycle Institute's Pro Bike Mechanic course, ordered a trailer and a whole whack of parts, put his tools and the parts in the trailer, hooked the whole lot up to his car, and got his new bike shop rolling.
Dan is THE go-to bike repair guy who comes to you!
Owner: Dan "TOMTEC" Thompson
Email: sales@dansbikeshop.ca
Skills: Jedi Master Bike Mechanic, Wheel Builder Extraordinaire, All-Around Awesome Guy